The Autoclave Learning Center
We created this resource center to help lab professionals better understand all the moving parts involved with researching, procuring, installing, and maintaining a steam laboratory autoclave.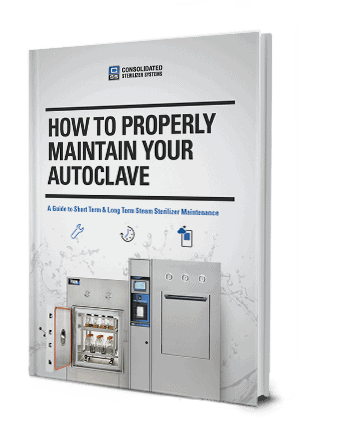 eBook | How to Properly Maintain Your Autoclave
Routine autoclave maintenance is essential to ensure that your steam autoclave continues to function properly for years to come. Through preventative and proactive maintenance, your business can avoid common autoclave issues such as incomplete sterilization, premature component failure and chamber corrosion. These questions explored in this eBook will provide you with the necessary knowledge and understanding to strategically develop both short-term and long-term maintenance plans.
Download Now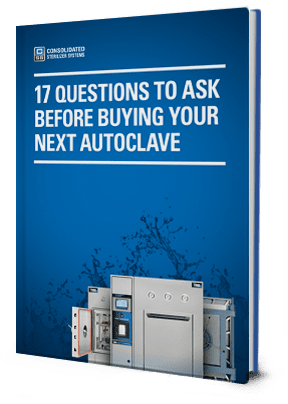 eBook | 17 Questions to Ask Before Buying an Autoclave
With so many models, sizes, options and components to choose from, how can you ever really know exactly what you need to make the most out of your investment? The 17 questions asked and answered in this ebook will help you to make informed decisions by outlining what is most important to consider and know about buying an autoclave.
Download Now
eBook | How to Validate an Autoclave
As the owner/operator of a laboratory autoclave, it's in your best interest to ensure your equipment is up to par at all times. This comprehensive eBook explains a variety of validation tests you may need to perform in order to properly and effectively validate your autoclave.
Download Now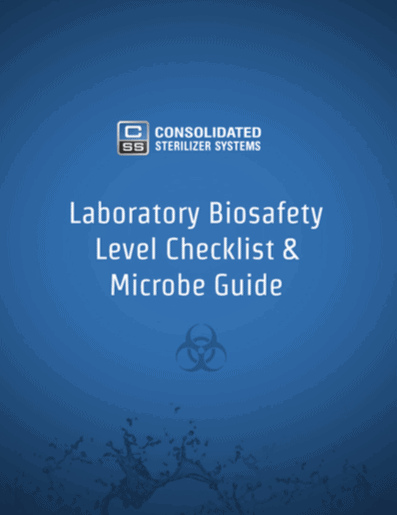 eBook | Laboratory Biosafety Level Checklist & Microbe Guide
Biological Safety Levels (BSL) are a series of protections relegated to the activities that take place in particular biological labs. The following quick reference guide is filled with safety tips for laboratory personnel working in BSL Labs 1-4, as well as examples of microrganisms commonly found within each laboratory designation.
Download Now
eBook | The Definitive Guide to Steam Sterilization Cycles
​Read this comprehensive 31-page guide about when and how to use the top 12 steam sterilization cycles. This guide outlines how today's steam autoclaves can be configured with specific parameters suitable for nearly any load and application type.
Download Now
eBook | A Comprehensive Guide to BSL-3 Biocontainment Lab Autoclaves
Learn everything there is to know about purchasing a BSL-3 autoclave – the bio-seal, autoclave door safety and effluent decontamination systems.
Download Now
Webinar | Future Trends in Steam Autoclave Design
This joint webinar features Arthur Trapotsis, CEO of Consolidated Sterilizer Systems, and Alok Tayi, PhD, CEO of TetraScience, discussing cloud-connected autoclave technology — a cutting edge capability that allows scientists, lab managers and facilities personnel the ability to monitor and manage their autoclave from any internet-ready device.


Watch Now
Whitepaper | The Real Reasons for Labs to Invest in Water Conservation Technologies.
With the demand for water increasing, supply diminishing, and issues with the support infrastructure, water costs will continue to increase for the foreseeable future. As a rule of thumb, labs consume 5–10 times more energy per square foot than an average office building. For today's laboratories at global, national, and local levels alike, it's time to start thinking about water conservation. Learn why your lab needs to take a hard look at water conversation and what you can to improve it.
Download Now
Video | How To Operate and Maintain Your Autoclave
Performing routine maintenance on your autoclave is important to extending the life of the machine. These series of instructional videos will teach you how to perform tasks such as: changing the paper roll, cleaning the drain strainer and tightening the door.
View Videos
For Architects | Get Revit Files For Your Project
Revit® files are available for all of our sterilizers, making it easy to download and incorporate any of our products into an existing project file. Revit® files provide the powerful design and documentation outputs that architects demand, as well as a host of additional benefits, including: small file size, easy integration into existing projects, simple, yet accurate 3D views, quick access to walkthrough rendering, and clear descriptions of dimensions and clearances required. File include Revit Files, CAD Files, and Cut Sheets.
Download Revit Files
Calculator | How Much Water Is Your Autoclave Wasting?
Over 15 years, a conventional autoclave can use up to 8 million gallons of water, totaling $112,000 in water costs. By using water saving technologies with your autoclaves you can significantly reduce your water consumption and save up $100,000 on water costs. Not sure, how much water you're wasting? Try out our water usage and savings calculator to see if your lab could be unnecessarily wasting this precious resource.
Calculate Water Savings
Literature | Brochures & Specification Sheets
Looking for brochures and specification sheets for our autoclaves? Visit our literature page for the latest details on each autoclave model, as well as information on water savings technologies and our services offerings.
View Literature
Video Case Study | Bioverativ: A Biopharmaceutical Company in Waltham, MA
Bioverativ is an independent biopharmaceutical company located in Waltham, MA and dedicated to transforming the lives of people with hemophilia, cold agglutinin disease and other rare blood disorders.
Watch Now