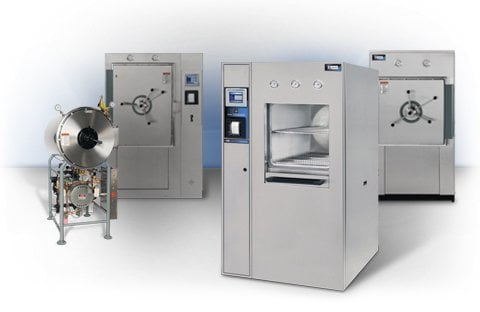 Consolidated Sterilizers
Designed to Transform Your Laboratory
Consolidated Sterilizers are designed to sterilize at temperatures between 212ºF and 275ºF (100ºC and 135ºC) through the use of steam. Choose from a stainless steel or nickel-clad steel vessel construction in a variety of sizes and programmable control options for pre-vacuum or gravity operation. Consolidated sterilizers offer a range of performance options to meet the most demanding applications in clinical, animal and life science, biotechnology, pharmaceutical, and commercial/industrial applications.
Low Cost of Ownership, Simplified Maintenance
All Consolidated sterilizers are designed and manufactured in the USA and built from commonly available parts to allow quick and cost effective field-level service and maintenance.
Serviceability
Both hinged-door and vertical-door sterilizers are designed to be the most service-friendly and reliable sterilizers in the industry. Easy access to replaceable, non-proprietary, components and plumbing parts permit qualified facility or area service companies to maintain the sterilizer.
Control Flexibility
Intuitive. This word has been used time and time again to describe Consolidated's Advantage Series controllers. A choice of state-of-the-art programmable controllers allows a broad range of performance functions, complete with alarm, monitoring and communications required for internal or third-party compliance.
Performance Cycles—Basic to Advanced
Consolidated sterilizers are ideal for sterilizing liquids, red-bags, waste, animal cages, wrapped and unwrapped goods, and other applications. All cycles are easily managed and documented. The fully-jacketed sterilizer design permits temperature uniformity and proper steam distribution when configured for pre-vacuum, post-vacuum, and more sophisticated functions such as air-over-pressure.
Green and Environmentally Friendly
Unique, new water and energy saving technologies reduce utility consumption without compromising performance. Learn more →
Consolidated Sterilizers are available in a variety of configurations: