WPS-1200 Water Purification Systems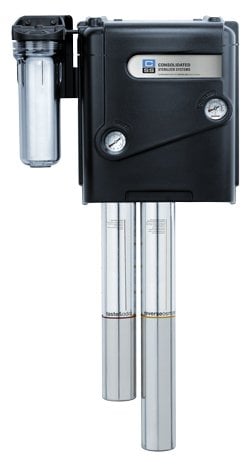 Consolidated offers two water systems as part of the WPS-1200 line. The WPS-1200-RO reverse osmosis water purification system produces Type III laboratory-grade water ideal for steam sterilizers and glassware washers. This robust system includes an RO module and a reservoir tank. Each module consists of two pre-treatment filters and a reverse osmosis filter. The pre-treatment filters remove particles larger than 5 microns, free chlorine, chloramines, and other undesirable traits. The reverse osmosis membrane filter removes greater than 90% of inorganic ions, hardness, and dissolved solids, as well as other particles and microorganisms.
If deionized water is required, the WPS-1200-DI system incorporates extra filtration to produce Type II deionized water ( >1 megohm•cm resistivity) for clean steam or other high purity applications.
WP-1200 Benefits
Improves equipment life and performance by removing at least 90% of all dissolved solids that cause scale build-up.
Designed specifically for autoclaves and glassware washers.
Reduction of scale build up translates to increased uptime as well as reduced maintenance and energy costs.
Designed to be very low maintenance and easy to use with a low cost of ownership.
System includes a pressurized storage tank.
Tank is floor standing and can be mounted remotely.
100% seamless composite construction with durable, high density polyethylene inner liner.
WP-1200 Features
Filters have a special 1/4 turn quick change design that allows simple, quick and clean filter replacement. Filters can be easily changed in minutes without the use of tools or the need for a service call.
Flexible design allows system to be installed integral to the sterilizer or on a nearby wall.
Pressurized storage allows purified water to be used for general lab use.
Environmentally safe; 100% lead-free.
Color indicator on DI filter signals when to change the filter.
Many steam sterilizers use an electric steam generator to create the required steam. When the steam is created, salts and minerals from the feed water are left behind. If hard tap water is used to generate the steam, over time these mineral deposits will accumulate and coat the generator heating elements, continually decreasing the functionality of the generator until it stops working. Consolidated's Water Purification Systems will remove these contaminants and help ensure maximum uptime.
Product Summary
Specifications
Model WPS-1200-RO
Model WPS-1200-DI
Production Water Quality
Type III
Type II (DI >1 megohm•cm)
Application
For steam sterilizers with carbon steel steam generators
For steam sterilizers with stainless steel steam generators (i.e. clean steam)
Sterilizer Size (volumetric)
Up to 42.4 cu.ft. (1200 liters)
Up to 42.4 cu.ft. (1200 liters)
Dimensions
38″ H x 20.5″ W x 8″ D
96.5 x 52.1 x 20.3 cm
38″ H x 30.5″ W x 8″ D
96.5 x 77.5 x 20.3 cm
Required Clearance
Add 6″ (15.25 cm) on all sides for cover removal and service access.
Operating Weight (not including storage tank)
40 lbs
18 kg
65 lbs
30 kg
Daily Production Rate*
350 gpd / 14.5 gph nominal
1,325 lpd / 55.2 lph
350 gpd / 14.5 gph nominal
1,325 lpd / 55.2 lph
Sterilizer Size (volumetric)
Up to 42.4 cu.ft.
(1200 liters)
Up to 42.4 cu.ft.
(1200 liters)
Tank

0

0

Tank Dimensions
37 – 57″ H x 16″ D 94 – 1 44.8 cm x 40.6 cm
Tank Weight (fully loaded)
110 – 210 lbs (50 – 95 kg)
Tank Volume
11 – 22 gallons (42 – 83 liters)
Water

–

–

Facility Supplied Connection
1/2″ NPT Ball Valve; 25 – 80 PSIG Dynamic; 1 GPM; 40-100°F (4.4-37.8°C)
Drain Connection
1/4″ (.64 cm) OD tube connection; Floor drain or Floor Sink, Gravity Flow
* Feed water temperature, feed water quality and age of filters affects production rate. Incoming water must meet water quality requirements.
Water Feed Requirements, Carbon-Steel Steam Generators
The table below shows the recommended feed water requirements for a standard steel boiler. If water quality fails to meet maximum condition requirements listed below, then your water will require purification by the WPS-1200-RO. If you are unsure of your facility's water quality, please contact Consolidated to arrange for an initial assessment.
Water Feed Requirements, Carbon Steel Steam Generators
Carbon Steel Steam Generators (1)
General Vacuum Device & Quench
Characteristic
Recommended Condition
Maximum Condition
Recommended Condition
Maximum Condition
Temperature [°F (°C)]
As Supplied
140 (60)
40-60 (4-16)
70 (21)
Total Hardness (mg/L)
17
85
10-85
171
Alkalinity (mg/L)
50-180
350
50-180
350
Total Dissolved Solids (mg/L)
50-150
250
50-200
500
pH
7.5-8.5
7.5-9.0
6.8-7.5
6.5-9.0
Total Silica (mg/L)
0.1-1.0
2.5
0.1-1.0
2.5
Resistivity (Ω•cm) (2)
2,000-6,000
26,000
2,000-26,000
500,000
(1) Stainless-steel generators require deionized water with resistivity ≥ 1MΩ•cm.
(2) If water supplied is greater than 26,000 Ω•cm contact Consolidated for recommendation.
Water Feed Requirements, Stainless Steel Generators
Stainless-steel generators require deionized water >1 megohm•cm.
WPS-1200 Maintenance
Proper pre-treatment is required to control scale formation and/or fouling (recommended preventive maintenance involves pre-treatment filter cartridge changes every 6 months2).
Change RO cartridges regularly (recommended 2-3 year preventive maintenance program2).
Download the WPS-1200 technical specification literature to learn more about the systems Consolidated has to offer
1 Increases the footprint of the sterilizer.
2 Feed water quality and usage affects filter life and replacement frequency.