What Is the Difference Between Laboratory, GLP, and GMP Steam Sterilizers?
"What is the difference between a GMP and a non-GMP (i.e. GLP and/or basic lab research) steam sterilizer?"
The sales and engineering teams here at Consolidated Sterilizer Systems get this question a lot. Many clients mistakenly believe that Good Manufacturing Practice (GMP) requirements are universal to all steam sterilizers used in pharmaceutical or biotechnology facilities. They also tend to assume that these features and requirements are unnecessarily added to sterilizers used for applications that fall outside the GMP umbrella.
This blog will explain the difference between GMP and non-GMP sterilizers and when you should use one versus the other.
What is GMP?
GMP or cGMP is shorthand for a piece of equipment that adheres to all United States FDA requirements for pharmaceutical drug production.
There are several guidance documents and standards with which GMP equipment manufacturers must comply:
FDA guidance document Title 21 Code of Federal Regulations Part 211

Section 211.63. Equipment design, size and location
Section 211.65. Equipment construction
Section 211.67. Equipment cleaning and maintenance
Section 211.68. Automatic, mechanical and electronic equipment

Good Automated Manufacturing Practices
Bio‐Processing Equipment, by the American Society of Mechanical Engineers (ASME BPE)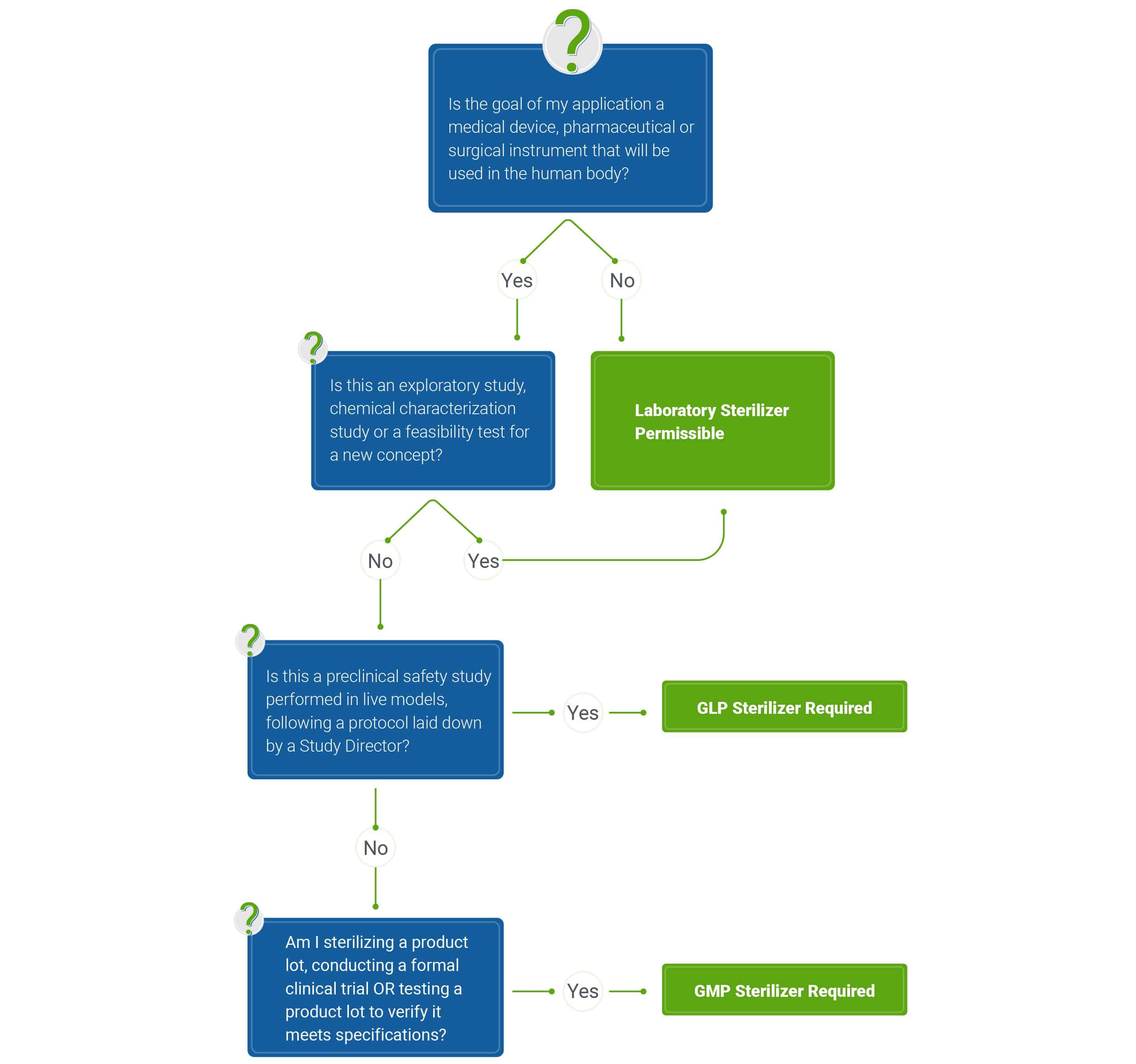 GMP Sterilizers
Typically, the sterilization of any product used in the testing or manufacturing of human-use drug products, or terminal sterilization of the drug product itself, must be performed in a GMP autoclave. GMP steam sterilizers must adhere to a set of stringent requirements that range from approved construction materials to the purity of the water that can be fed to the sterilizer. For more specific information about these requirements, refer to the table further down the page.
Non-GMP Sterilizers
Non-GMP sterilizers fall into two categories: basic lab research and Good Laboratory Practice (GLP). Sterilizers that fall into either of these categories are far less expensive to purchase and maintain than a GMP sterilizer and can be customized to a far greater degree to its intended application. A majority of the sterilization that takes place in a pharmaceutical or biotechnology facility falls outside the requirements of GMP. Here are some examples of non-GMP sterilizer applications:
Sterilization of waste materials prior to disposal
Sterilization of products used for laboratory or R&D purposes and not supporting a production area
Sterilization of products used for animal and other non-human use testing
For these products, non-GMP sterilizers provide the same service at a fraction of the upfront and operating costs.
GLP Sterilizers
GLP is a secondary designation that loosens some of the GMP regulatory requirements for pre-clinical trials. If you know that your research will eventually lead to clinical trials and want an autoclave that you can use from the exploratory stage through the preclinical stage without the continuous regulatory oversight of GMP, a GLP sterilizer is a good option. A GLP sterilizer can be a lower cost alternative that only needs to be replaced when the lab needs to ramp up to a production/clinical trial footing. Due to the lowered requirements, most laboratory sterilizer manufacturers can meet GLP standards (listed in the table below) with the correct combination of optional features.
GMP Sterilizer
GLP Sterilizer
Non-GMP Sterilizer
Water Source
Must be fed with high-purity water >1 Megaohm sourced from WFI.
Steam quality will need to be verified for dryness, superheat and impurities.

Must be fed with high-purity water >1 Megaohm, requiring secondary filtration equipment and storage tanks.

Can often be fed with tap water, or water with simple filtration or softening.

Sterilizer Plumbing

All piping must be constructed from medical grade stainless steel, clamped and orbital welded.

All piping must be constructed from medical grade stainless steel but may be National Pipe Thread Tater (NPT) threaded.

Piping may be constructed from standard brass/bronze NPT fittings for easier replacement and maintenance.

Temperature Monitoring

Temperature monitoring and control must be independent and, therefore, require redundant control systems.

Control and monitoring may be from a single device.

Control and monitoring may be from a single device.

Chamber Finish

Chamber must be polished to mirror finish (<10Ra).

Chamber must be passivated and Electropolished (<30RA).

May be passivated with standard polish.

Filtration

All air must be vented through sterilized-in-place microbial filters with dedicated steam lines.

Air must be vented through 0.2 micron filters before leaving the chamber.

Sterilized-in-place secondary filter not required.

Validation Documentation

Documented QC validation and checkoff required for each stage of installation and sterilization (IQ/OQ/PQ).

Internal QC validation acceptable.

Internal QC validation acceptable.

Sterilizer Control System

Controls compliant with CFR 21 standards for data security.

Control and monitoring systems meet internal organization requirements for data security.

Control and monitoring systems meet internal organization requirements for data security.
Laboratory Sterilizers
Laboratory sterilizers are most commonly used in universities and for biotechnology, animal and life science, pharmaceutical, food, industrial or biocontainment safety laboratory level 3 applications.
In order to minimize cost, laboratory sterilizers should be used for all applications that do not require GMP. Red bag waste, products for research and animal testing, and all packaging that does not directly contact a human-use product can be sterilized in non-GMP laboratory sterilizers, even if the primary application of the company's product is pharmaceutical. Before purchasing an autoclave, perform a thorough analysis of the applications the autoclave will be used for and determine whether GMP sterilization will be required.
For guidance on how to choose the right sterilizer for your application, refer to the flow chart. If you'd like more information on laboratory or GLP steam sterilizers, get in touch with the team at Consolidated Sterilizer Systems today.
17 Questions to Ask Before Buying Your Next Autoclave
We created this 17-question eBook as a framework to help you explore and discover the exact type of autoclave best suited to your needs.
Get eBook