Complete Your Project Ahead of Schedule and Under Budget
Consolidated Sterilizer Systems is proud to work with the top construction companies on projects around the world. Here, general contractors appreciate our vast experience, depth of knowledge, and customer service via short lead-times and superior technical expertise when it comes to steam autoclaves.
At CSS, our dedicated sales team works closely with general contractors to find a product that delivers the greatest value, and then our engineering and production teams manufacture each autoclave on time and in accordance with your project schedule. Finally, our service team works to complete a turnkey installation and training session.
From procurement through installation, we strive to make the process as smooth and straightforward as possible.
Experience
After 65+ years in business, Consolidated has completed thousands of installations throughout the United States, Canada, Latin America, and Asia.  Some of our biggest recent construction projects include:
Ragon Institute, Mass General Hospital: 17 Units
University of Alabama: 12 units
Loyola University Medical Center: 11 units 
Trusted by some of the most-respected construction companies in the industry:

Customer Service
When partnering with CSS, customer service is always a priority. From start to finish, general contractors appreciate being able to pick up the phone to speak directly to our Director of Engineering during submittals or our Vice President of Sales during the procurement phase. This full-spectrum approach to service ensures that the best recommendations, options, and solutions are discovered for your specific needs.
Furthermore, all CSS steam autoclaves are made to order—meaning we can customize the unit to fit within a specific footprint and/or utility connection.
Below is one of our most extreme examples of space-saving design: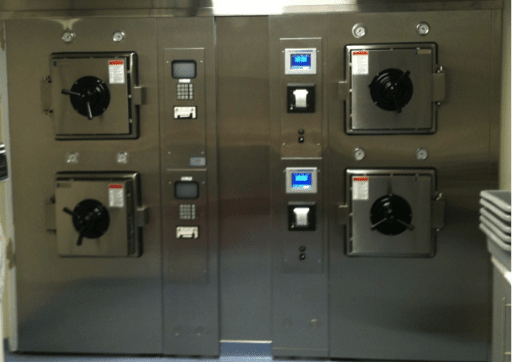 This image shows two of our larger CSS Dual Chamber, Tower models set side-by-side. With limited space available, each of these 2SSR-3A steam autoclave and their respective hookups and controller positions are configured to fit a tight footprint and meet throughput capacity requirements most efficiently.
What Our Customers Are Saying
"We worked with Consolidated Sterilizer Systems on a build-out for the State Hygienic Laboratory of Iowa. Despite the project being located halfway across the country, they were able to communicate effectively with us in advance of their installation. The process of placing and piping the sterilizer was the easiest part of the entire project thanks to the planning and flexibility of Consolidated. Our first experience with this type of sterilizer equipment was a great one!"

– Nick Ford, Eastern Region President of Woodruff Construction
General Contractor Resources
To help every general contractor interested in working with CSS achieve the best results on their next project, please find the documents below available for your download:
This PDF details the water, steam, and drain connections, electricity, and other facility utilities required to install a Consolidated steam autoclave.
While we have factory-trained service companies available for installations, some general contractors opt to perform their own installations. This document is a checklist of requirements to ensure the steam autoclave is installed correctly.
The CSS Express™ program guarantees a thirty day expedited shipment of our most popular steam autoclave sizes/models. This program offers a turnkey solution for emergency replacement, scale-up, or unplanned omissions in project development for new or retrofit installs.
Interested In Working With CSS?
Start the procurement process today by contacting Consolidated Sterilizer Systems or requesting a quote directly from our factory headquarters. We look forward to hearing from you!