Case Study: Consolidated Sterilizer Systems Performs Custom Autoclave Installation for Leading Biopharmaceutical Company
The Client | Bioverativ
Bioverativ, a biopharmaceutical company based in Waltham, Massachusetts, is dedicated to transforming the lives of people with hemophilia, cold agglutinin disease and other rare blood disorders. A Sanofi company, Bioverativ is an industry-leading provider of factor replacement therapy for patients suffering from hemophilia A and hemophilia B.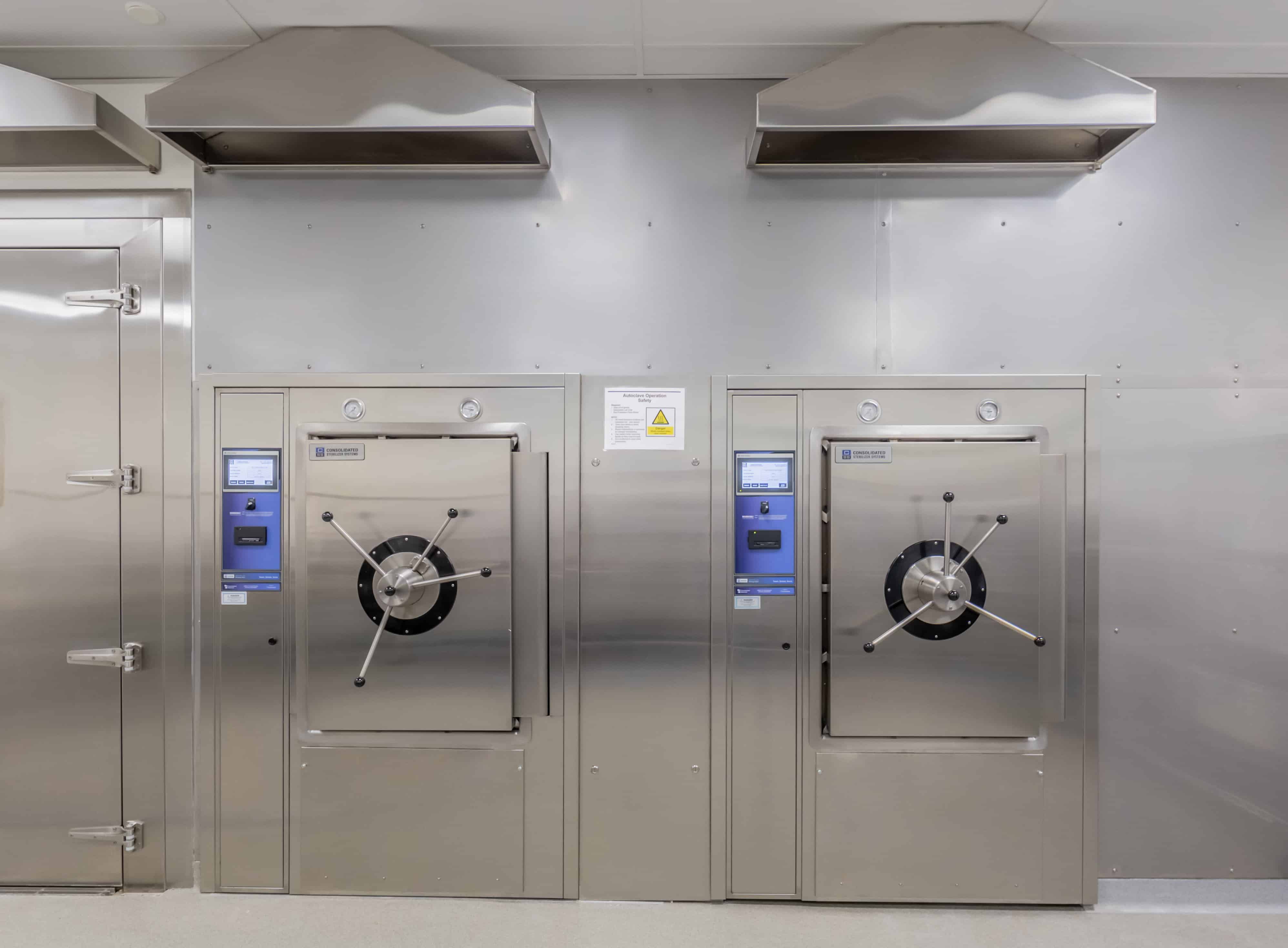 Bioverativ's Challenges
In addition to providing factor replacement therapy, Bioverativ also specializes in conducting world-class research, development and commercialization of innovative new therapies. To keep up with research demands, Bioverativ needed an autoclave set-up that allowed for fast and efficient sterilization of mice cages while working within the physical constraints of their available space.  A bulk sterilizer was not an option because a "pit" wasn't available.  The company was also looking for sterilization equipment that would be easy to use, easy to service, with a low cost of ownership and minimum downtime.
A Solution with CSS
Consolidated worked with Bioverativ to provide and install two 24" x 36" x 72" Model SR-24F-ADV-PLUS recess-mounted, single door, hinged autoclaves with loading carts and transfer carriages.  The side-by-side arrangement worked very well within their existing infrastructure.   This solution was able to comfortably handle the throughput needs of the vivarium and these two units, configured side by side, allowed for redundancy in the event that one unit was being serviced.  This was also a fraction of the cost of a bulk sterilizer with similar capabilities.
For this custom installation, Consolidated had to incorporate both autoclaves into an existing modular wall, as well as incorporate Bioverativ's existing canopy hoods. (see photo)  All of Consolidated's autoclaves are built to order, so clients can add on options, such as energy-saving capabilities, vacuum systems, loading equipment and more, to customize their order to meet their exact specifications. Based on this, Consolidated was able to help Bioverativ select pre-vacuum autoclaves that aid in the efficient air removal from the bedding to allow proper sterilization to take place.
Thanks to Consolidated's easy-to-use sterilization equipment, the scientists and facilities personnel at Bioverativ are able to focus on discovering life-saving treatments for patients with rare blood disorders.
"All of the requirements Bioverativ was looking for in an autoclave are part of our core competency," said Arthur Trapotsis, President and CEO of Consolidation Sterilizer Systems. "We manufacture and install simple-to-use, reliable autoclaves and offer a wide variety of customization options, so we can ensure that our clients get exactly what they want. We're thrilled not only to help Bioverativ meet its sterilization needs, but to also play a role in the company's important work."
17 Questions to Ask Before Buying Your Next Autoclave
We created this 17-question eBook as a framework to help you explore and discover the exact type of autoclave best suited to your needs.
Get eBook